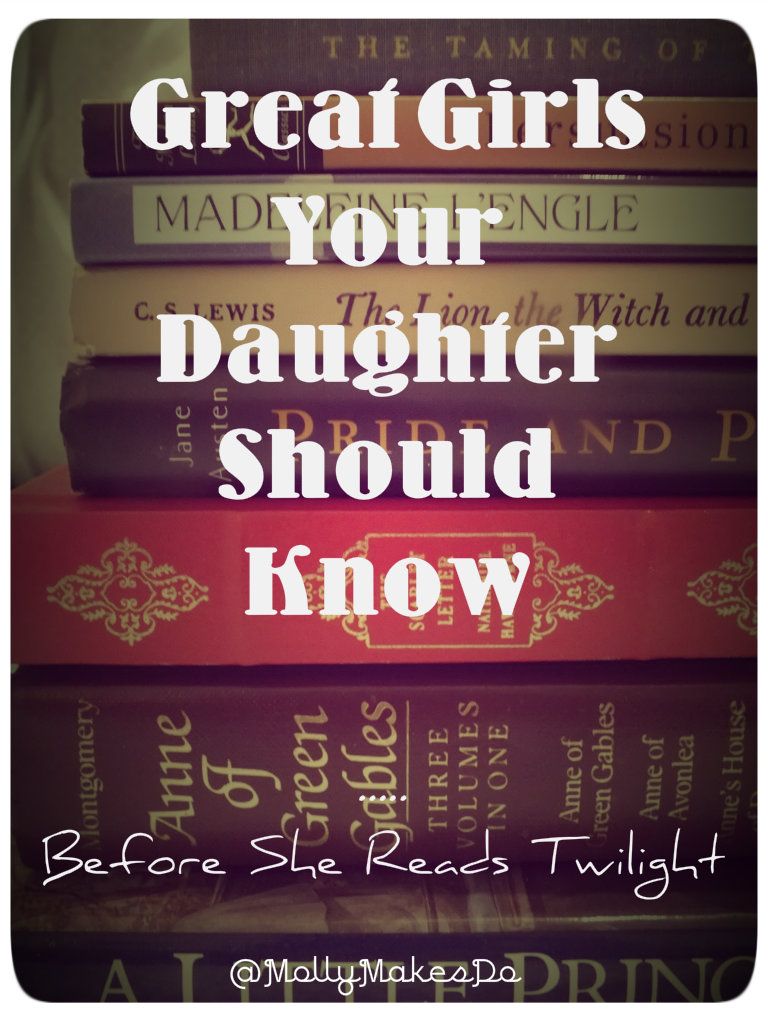 I'm not a huge fan of the Twilight Series of books - long story short I think they have little literary merit (due to equal parts poor writing, poor plot development and poor character development) and are marketed to too young of girls for my taste. That kind of literary fluff concerning the topics central to these books are best left to beach reads for older girls and women at best. My friend
Haley does a great job at expressing her dislike of the series
and I can't say I disagree. *as you read her letter please remember there is a difference between allowing a child to read what interests her and encouraging certain materials over another*.
My daughters, should I have any, will be encouraged to read to whatever encourages them to read - as many will be quick to point out it's better to read something like Twilight than nothing at all, which is true to a degree. However, I hope before my girls pick up a beat up copy of Twilight out of the quarter bin of Goodwill (where I presume most copies will be in 15 years) I hope they've already been introduced to many more strong, relatable female protagonists.
The following is a far from complete list of some of my favorites - they are warriors, scholars, mothers, daughters; they can be wildly in love and impressively practical; they are a little too perfect and incredibly flawed. Most of them have happy endings, some of them don't. In an nutshell - these are girls who act like girls
Mary Lennox from The Secret Garden
Jo, Meg, Beth and Amy from Little Women
Sara Crewe from A Little Princess
Laura

,

Mary and Ma Ingalls from the Little House on the Prairie Series
Anne Shirley from Anne of Green Gables
Ramona and Beezus from the Ramona Series
Meg Murray from A Wrinkle in Time
Hermione Granger, Tonks and Molly Weasley from the Harry Potter Series
Coraline Jones from Coraline
Cimorene from Dealing with Dragons (and the rest of the Enchanted Forest Chronicles)
Elizabeth from The Paper Bag Princess
Sophie from Howl's Moving Castle

Nausicaa

from Nausicaa of the Valley of the Wind
Lireal/Sabriel from the Abhorsen Series
Alanna from the Song of the Lioness Series
Lucy and Susan from the Lion, the Witch and the Wardrobe
Eff Rothmer from the Frontier Magic Series
Jane from Jane Erye
Lizzy Bennet and her Sisters from Pride and Prejudice
Eleanor and Marianne from Sense and Sensibility
Anne from Persuasion
Eowyn from the Lord of the Rings
Beatrice from Much Ado About Nothing
Kate from The Taming of the Shrew
Hester Pryne from The Scarlet Letter
Scout from To Kill a Mockingbird
Princess Buttercup from The Princess Bride
Charlotte from Charlotte's Web
Margaret Halefrom North and South
Antigone from Sophocles' Antigone
If you'd like links to the books mentioned in this list hope over to the
Great Girls Pinterest Board
for these and other great suggestions!
If you'd like an even longer list about women and girls real or fictional check out
A Mighty Girl
!
And let's not forget - stories about strong girls are not just for girls, let's encourage our boys to read these books too!